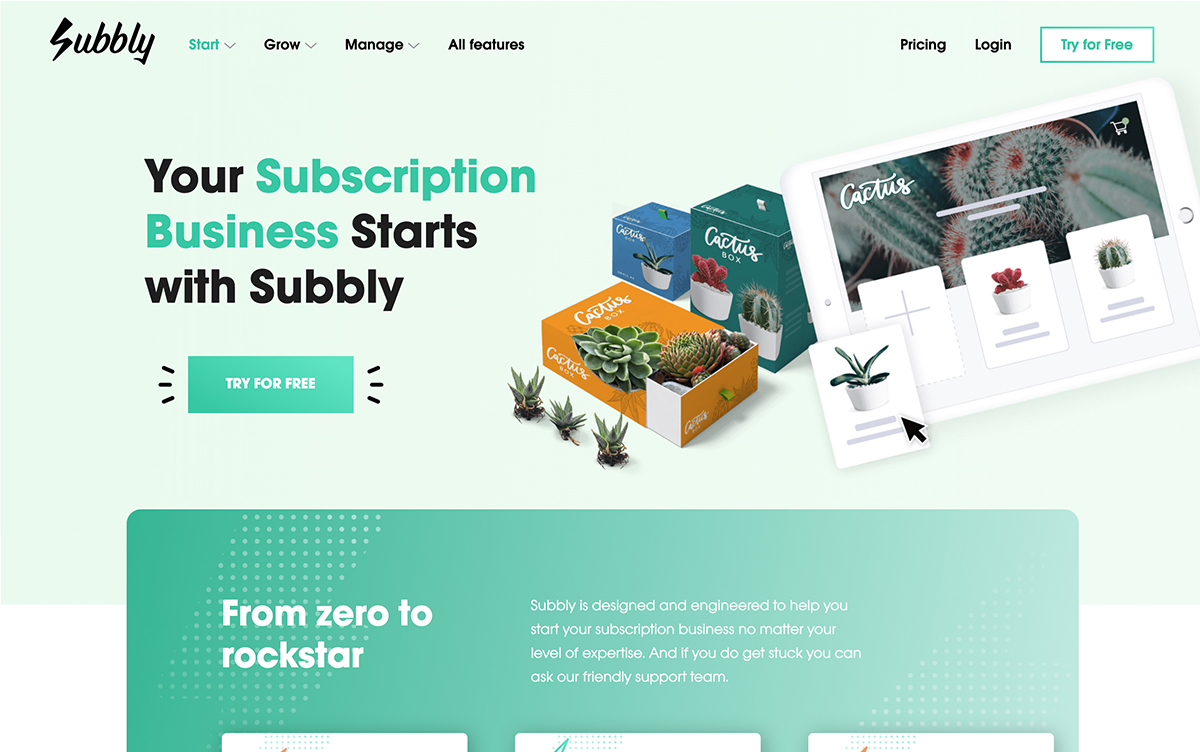 Subbly is an All-in-One Subscription eCommerce Solution That Provides You with Everything You Need to Setup a Successful Subscription Box Business in Just a Few Minutes.
Flexible Subscription Billing
At the core of Subbly® is a powerful subscription billing engine which makes complex billing requirements simple.
Subscription billing
Take payment from your customers on a recurring basis automatically without having to manually do anything. Once your customer is subscribed, Subbly will take care of the rest so you can rest confidently knowing your recurring revenue is coming in next week, month or year.
Cut off dates & set renewal dates
Bill all your customers on the same day each month, set a cut off day for shipment day and choose the day your customers shipments are sent. Billing and shipments that fit around your business needs.
"Build-a-box" and other complex billing needs
Want to let your customers customize their subscriptions by configuring options, or choosing the products inside of their shipments? Look no further, Subbly has a special survey builder to allow for customizable subscriptions for your customers and to allow you to offer a custom experience.
Customizable billing and shipping cycles
Monthly, Weekly, Annually, Quarterly and beyond! Combine shipping and billing cycles to fit your exact billing and shipping frequency needs. You can also let your customers choose what they prefer during the checkout.
Failed payment recovery & dunning
Failing card payments are frustrating! Involuntary churn can be reduced with our built in failed payment recovery tools and automations.
Trial periods
Let your customers try a sample subscription box for a lower amount and have them renew on a shorter cycle than normal at the full price of the normal subscription.
Commitment periods
Destroy churn with commitment periods. Offer a 12 month subscription paid monthly and offer a discount to incentivise customers to commit.
And more…
Subbly is fundamentally a subscription first e-commerce platform. We have many more features that support your subscription needs. Just ask our friendly support team and they will be able to help.
Basic Ecommerce
Make your e-commerce journey even easier with our powerful and comprehensive set of tools, all ready out-of-the-box.
Normal e-commerce
You can manage your normal e-commerce purchases inside of Subbly as well, and even combine subscriptions with one-time purchases to help maximise revenue and make the customer experience that much smoother.
Compliant payment processing
Reliable one-time and recurring payment processing is handled directly in Subbly. Never miss out on a customer. Charge customers directly from the admin. All payment processing is SCA ready and PCI compliant.
Multiple payment gateways
Process your customers payments using your gateway of choice. Including Stripe*, Braintree and PayPal to process your customers payments.
*Stripe is the gold standard in payment processing and Subbly's official recommended partner.
Tax calculations
Automatic worldwide tax calculations make sure you're tax compliant. Take it one step further and enable the TaxJar app in the Subbly App Store and you will have your filing taken care of as well (in the US).
Cart functionality
Let your customers add multiple items to your subscription enabled cart. Combine subscriptions and one-time products and let them update it any time. The cart functionality works in conjunction with the up-sell capabilities.
Website Builder
Keep all your online business needs in one place. The Subbly website builder combined with the subscription checkout means you have a full solution under one roof.
Powerful drag & drop builder
If you can imagine it, then you can create it with the Subbly website builder. Draggable elements, editable columns, editable margins and more. Even drag colours to elements to change their colour.
Multiple templates
Choose from professionally designed templates to start you off, you can edit them as you please. You can also take advantage of pre-configured blocks to save time if you do decide to start with a blank slate.
Videos & galleries
Upload your beautiful product photography and even videos to show off your products. Help your customers imagination and get them to enter your cart with photo galleries and video capabilities.
Mobile & tablet friendly
More than 50% of all internet traffic is on mobile devices now. Our mobile ready platform and templates mean you've got your "Open" sign on regardless of device they are using to visit.
Logo creator
No logo? No photoshop? No problem. Our built-in logo designer tool will let you create a logo with no skill required. You can even download the finished result for your stationary.
Visual sitemap and structure editor
Set out your website structure visually. Simply drag the pages into their logic hierarchy and your navigation elements will update to reflect your customer journey.
SEO & meta tools
Configure what is shown when you share web pages on social media, and what appears in search engines such as Google, using the SEO app and meta data settings.
And more…
The website builder is a fully feature website builder application on its own, tried and tested by thousands of users. Discover it's full capabilities by signing up for a free trial today.
Checkout & Flows
Control every aspect of the customer's journey and experience. It's your brand, and your business model.
Customizable branding
Change the logo and colours of your checkout to match your brand identity. This will reflect inside your unique customer login area and on your checkout flows to allow for a consistent and seamless experience from start to finish.
Surveys, on-boarding flows & quizzes
Collect customer data, allow them to customize their subscriptions, and tailor your on-boarding experience to fit your business needs. You can create and modify your on-boarding flows with a flexible drag-and-drop survey builder.
Embed on any website
Not using Subbly's powerful website builder? Already have an existing website? No problem, you can embed the entire checkout experience directly onto your own website with ease. Just copy and paste the code from the widget builder.
High conversion rate
The checkout has been designed and engineered with conversion rates and customer experience as the main focus. Our tried and tested checkout has frequently shown consistent increase in conversions compared to other solutions as based on feedback from our users.
Shipping & Logistics
Streamline fulfilment and logistics to make your life easier and to make sure your customers reliably receive their shipments and have a good experience over and over again.
Order management system
Handle all your fulfilment inside the easy to use and powerful order management system inside the Subbly admin. Mark orders as shipped, filter orders, batch process orders and more.
360 degree integrations
Integrate your favourite shipping platform, including, Pirate Ship and ShipStation. These integrations will allow you to produce your shipping labels with ease and automatically update your Subbly account creating a 360 degree fulfilment solution.
Inventory tracking
Take advantage of the inventory tracking feature to determine how many of each SKU you have left, and auto assign SKUs to your orders based on the products and answers to surveys your customers have selected. Our setup gives the ultimate flexibility and convenience.
API & Exports
Export your orders based on the filters you have in place to then import into other management systems. Use Zapier to automatically pass orders to another platform, or take advantage of our public Orders API to integrate directly with any 3PL. Your business the way you want it.
Automatic notifications
Keep your customers in the loop through their customer login area and via automated email notifications, so they always know what's happening.
Marketing & Growth
There are so many tools and solutions out there that help with growth and marketing, but making them all work together can be fiddly. Especially with subscription. That's why we've engineered many features and products to help simplify this and support your growth efforts.
Coupons & discounts
Offer discounts and coupon codes to your customers to incentivise them to subscribe and purchase your products. Percentage based, fixed amounts and varying subscription settings allow for full control over how coupons behave with your subscription products.
Refer-a-friend tool
Word of mouth is one of the most powerful ways to grow a business. Let your customers do your marketing using the built-in refer-a-friend tool. Simply enable it and set the rewards.
Cart abandonment
Increase conversions and improve your CAC (cost of acquiring customers) by enabling the cart-abandonment recovery tool. Set and forget and unlock additional compounding growth through recurring revenue. You can track how well your cart abandonment sequence is performing as inside the tools admin page.
SMS marketing
Using Subbly's Automations you can send SMS's to old and new customers making your brand very personal. Offer discounts, up-sells and more. Made possible with the Twilio app in the Subbly App Store.
Tracking codes
It's important to understand how your marketing and website are performing, easily add your own tracking codes and scripts or simply enable one of the native apps in the Subbly App Store and watch as your customers interact with your brand, and make those all important optimizations.
Marketing automation
Leverage Subbly's Automations and workflows product to automate your marketing to existing customers via SMS, email and more. The possibilities are endless.
Loyalty programs
Add discounts to customer subscriptions automatically after a certain number of subscriptions, or throw in a free item from your inventory. All of this can be achieved using Subbly's Automations.
Analytics
Understand how your business is performing with the built in Analytics platform which shows you all your key metrics so you can analyze trends.
Churn optimization
Grow by keeping customers longer. Combat involuntary and voluntary churn with Subbly Automations, Churn Insights and Cancellation Reasons.
Management & Customers
Reducing the amount of time it takes to manage customers and support them is critical to allow you to make them happier, but also to reduce your stress and leave you with more time to focus on other core areas of the business, like growth and product.
Customer login area
Let your customers manage their own accounts saving you hours of time and keeping them happier. The customer login area can be designed to match your brand.
Customer management
A full CRM allows you to view your customers information, edit their information for them and perform management actions on their orders and subscriptions. Change renewal dates, batch edit multiple subscriptions at once and more.
Advanced filtering and search
Search for any customer, order or subscription from any page almost instantly. Search orders based on survey answers and more. You will love logging into Subbly to understand and manage your customers and their orders.
Cancellation form
Configured and collect reasons for cancelling from customers if and when they decide to cancel their subscription with you. This information can be analysed in the Churn Insights section to help you better reduce churn.
Automated editable transactional emails
Emails are sent to customers with key information at the right time. High deliverability rates and fast delivery. You can edit your email templates with ease from inside the admin.
Custom Email & SMS workflows
If you want to send emails outside of the usual triggers, or even SMS, you can utilise the Subbly Automations feature to create new triggers and send whatever you want however you want.
Extensibility & More
An all-in-one platform is great, but an all-in-one platform that works with others, has incredible customer support, and more, is rocking?!
App store
Connect your Subbly store with your favourite services, extend the functionality, and more. Just head over to the App Store and enable and configure your favourite apps to get started. We're always adding apps to the app store. Got an app idea? Let us know!
API
Programmer? We have API's which you can utilise for your application as well as a webhook platform. Ask our support for more information about this and for help getting this setup.
SLA's & enterprise ready
We can provide enterprise grade SLA's and even account management. We work closely with our Enterprise clients to give them the solutions they need with the support they need.
PCI, SCA and GDPR compliant
And just to cover off the boring bits, we've got you covered. We're PCI compliant, SCA ready and GDPR compliant.
Exceptional customer support
You are the star of the show. We want to see you rock with your business and we're here to help you every step of the way. Check out our reviews on Capterra to see some of the lovely things our users have said. We're very grateful to have worked alongside them.
Community
And no platform would be complete without an active and supportive community around it. Join over 5,000 members on our Facebook group to share learnings with and to learn from.
Click here to get your free trail
Growth Capital For Online SaaS and App Businesses | Clearco
This is how you fund your business without giving up any Equity Click Here To Learn How!!