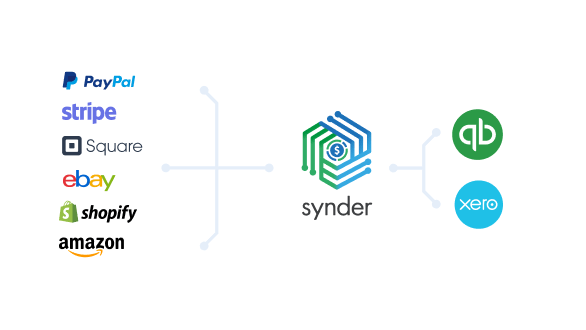 your business is evolving fast and you get more and more payments via PayPal or stripe or Square, but usually it is a nightmare to sync your online payments with accounting systems when you have to record all the transactions manually.
spending hours on this unnecessary job daily, searching for a solution users face the same common problems, most of the apps work just on a surface and do not go deep into the details,, as a resultyou still have to manually manage product info, taxes expenses, fees multi-line, transaction,multi-currency,bank reconciliation is manual and still takes a lot of time making the process a nightmare for any user. as a result you receive unhappy outcomes with even more problems cleaning up the mess made by the app .
business payments by Synder is the solution that can leverage all painful processes with your accounting system. business payments are able to sync all of your online transactions with your accounting system, including transfers from PayPal ,stripe,square to your bank account that is set for withdrawals payouts in your accounting to do so business payments will create a separate bank account where all sales and expenses from the payment system will be stored at ,this account represents your payment system in the accounting, for example, PayPal payments and fee will be associated with the same bank account as it goes in real life once synced you can easily reconcile your bank accounts, as well as PayPal, strengthens account, where you sync all of your transactions into with a statement from the payment system business payment killer features, include 100% secured ,user can rollback any sync with all created objects, multi-currency supported, functions to avoid duplicates , set X preferences and other advanced configs available five-star rating based on hundreds of users opinions
Click here to start a free trail 
Growth Capital For Online SaaS and App Businesses | Clearco
This is how you fund your business without giving up any Equity Click Here To Learn How!!