Here's a mind-blowing fact about pizza: Americans eat the equivalent of approximately 100 acres of pizza each day, 350 pizza slices per second, and buy over 3 billion pizzas every year. The obvious conclusion? We seriously love our pizza! That being said, next time you're in the mood to entertain, throwing a pizza party is pretty much a guarantee that you're going to have a great time. Not only does everyone love a pizza party, but they're really easy to throw together even for the easily overwhelmed like me.
So next time you're looking for the perfect excuse to get together with friends or family, or you're just looking to make your regular pizza night a little extra special, here's some tips to make your own pizza party a success. 
Set The Mood
To give your party an authentic pizzeria style, grab a checkered tablecloth, some cloth napkins, and rustic wooden serving board to give you that true restaurant feel. Create a great playlist with some Italian music in the background and light some candles. Maybe take your party outdoors if the weather's great and you have a big enough space. Don't forget to string lights around for a charming and relaxed atmosphere.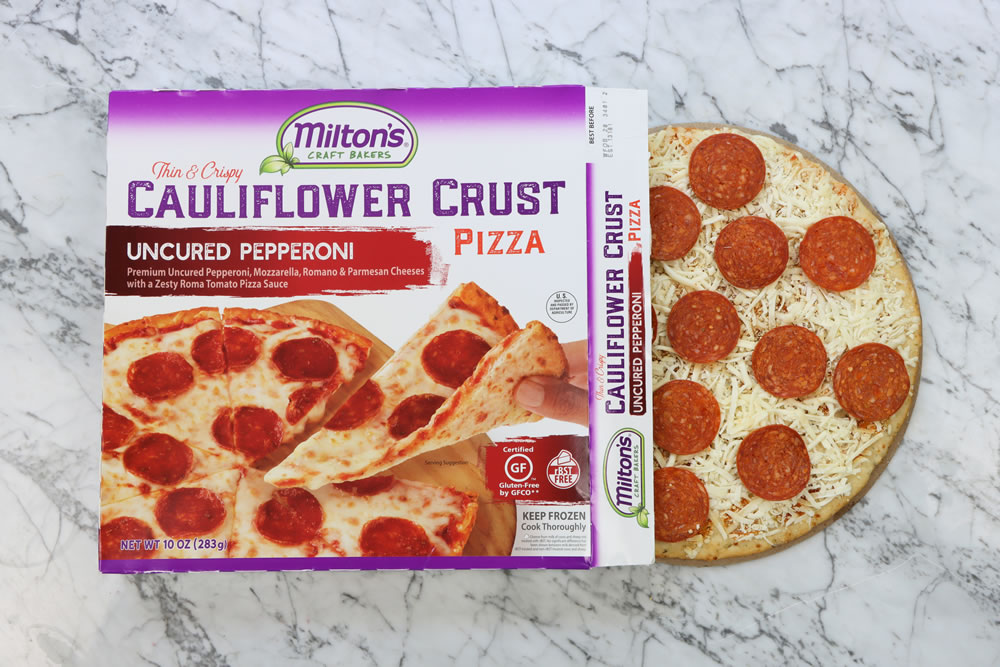 You Don't Have To Make Everything From Scratch
Part of the fun of making a pizza party is allowing your guests to build their own pizza toppings so they can share their creations with other guests. For an authentic pizza-making experience, fresh dough from the grocery store is a good option if you don't want the hassle of making your own. But this can get complicated and messy if you plan on serving a variety of different pizzas. The trick? Frozen pizzas! Frozen pizza has come a long long way and not only are they super customizable (especially when only topped with cheese), but they can streamline the whole pizza-making experience. Plus, they have a variety of crust styles to choose from which makes them a great option when any of your guests have allergies, dietary preferences, or if you just want a big selection.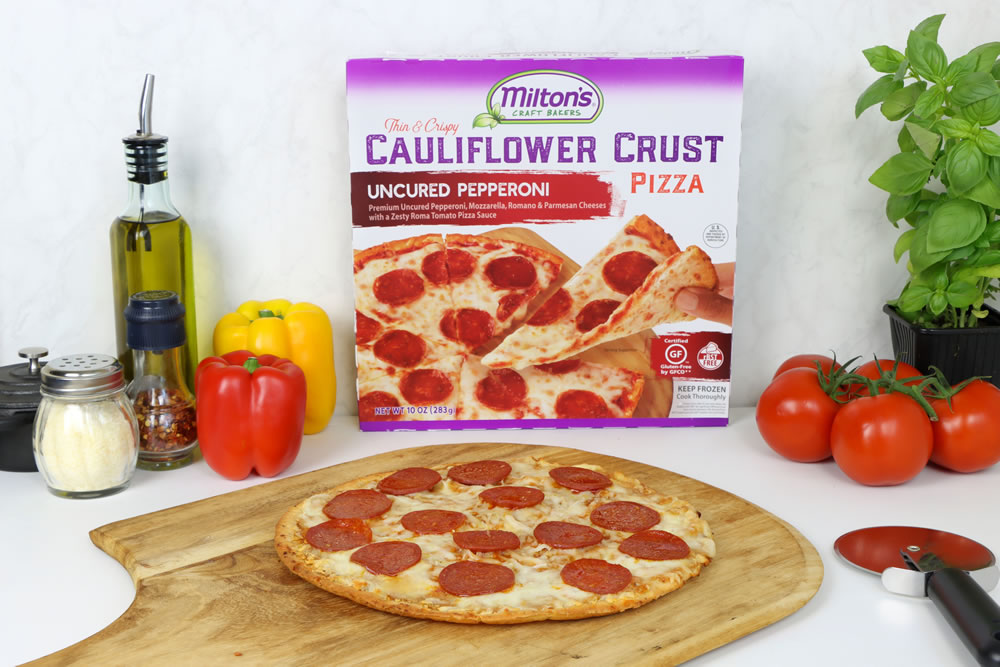 In fact, Milton's Craft Bakers, a company that specializes in "better-for-you" bread, crackers, and snacks made without questionable ingredients like high fructose corn syrup, trans fats, and artificial flavors or preservatives has just released a new line of frozen cauliflower crust pizzas that we're now currently obsessed with. 
Over the years I've tried several cauliflower crust pizzas. Usually, I found the cauliflower crust to be either soggy, have a cardboard-like texture, or the cauliflower taste was too pronounced to make me feel like I was actually eating pizza.
One bite of Milton's frozen pizzas and I was blown away. Besides cauliflower, the crust is also made with mozzarella which gives it a light buttery taste, brown rice flour which gives it a crispy crunch, and spices like garlic powder and Italian seasoning add a touch more flavor. It's really a perfect crust that gets super crispy throughout when you bake it up. Plus, I love that I still feel light after eating it.
Each of their pizzas is topped with a "zesty" Roma tomato pizza sauce and mozzarella, provolone, Romano, and Parmesan cheeses. They're so good and better than most frozen pizzas I've had, with or without the cauliflower.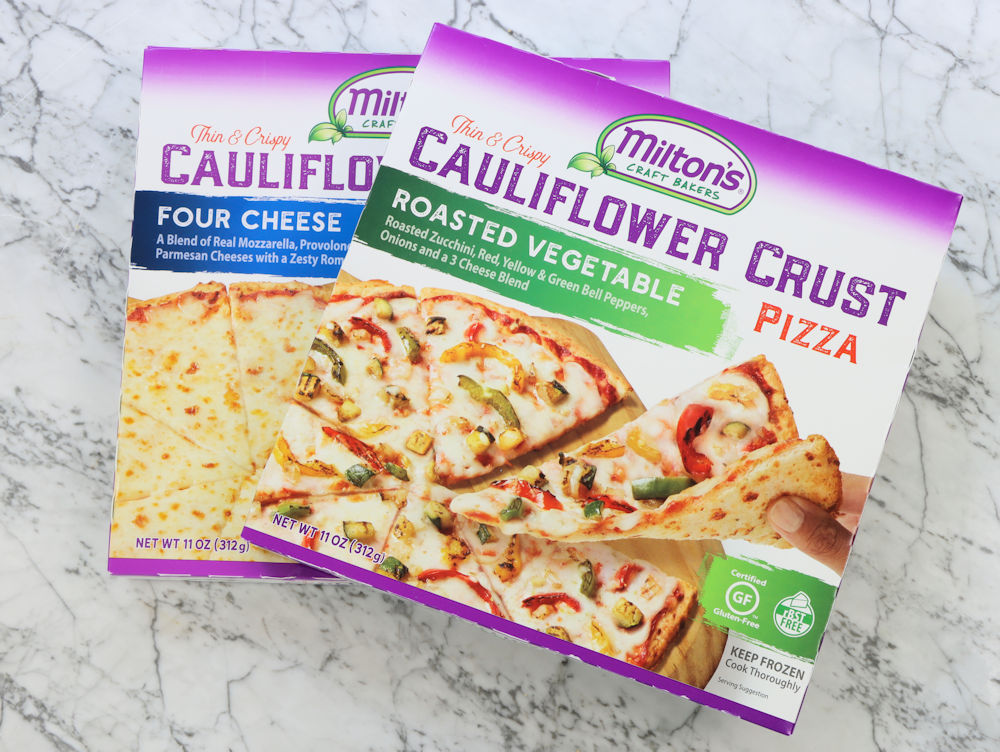 Milton's Cauliflower Crust Pizzas currently come in four flavors. These are the ones we tried:
Four Cheese: You can't go wrong with this one. This cheese-only pizza with a blend of mozzarella, provolone, Romano, and Parmesan cheeses is perfect for customizing with all your favorite toppings. Perfect for your pizza party!
Roasted Vegetable: Perfect for the veggie lover this one is topped with roasted zucchini, red yellow, and green bell peppers, onions, and of course their own four cheese blend.
Margherita Four-Cheese: Milton's Margherita pizza is topped with diced Roma tomatoes and fresh basil. This one would be delicious drizzled with a good olive oil or balsamic glaze.
Uncured Pepperoni:  Just like the Four Cheese, but topped with a delicious premium tasting uncured pepperoni. Can't go wrong with this one. 
Super delicious and gluten-free, Milton's Cauliflower Crust Pizzas are the perfect alternative style crust to serve your pizza party guests.
Since they're frozen, we're stocking up so we can have a pizza party whenever our mood strikes.
Go Easy on the Appetizers
Salad is the perfect light way to start your guests off before the pizza is served. And it doesn't have to be complicated. A tricolor salad with radicchio, endive, and arugula with a balsamic dressing or an antipasto salad with grape and sundried tomatoes, celery, olives, pepperoncini, diced salami, and Italian Vinaigrette are both great ways to start your pizza party.
You can also put together a simple antipasto platter together if you don't think salad will be enough on its own.
Get Your Ingredients Ready to go the Day Before
Part of throwing a great party that goes smoothly is doing some prep work beforehand. For a pizza party, that means prepping your ingredients and getting the toppings ready. Setting up a topping buffet is a great way to let guests select their favorites before baking.
Meaty Pizza Party Toppings:
Pepperoni

Soppressata

Capocollo

Prosciutto or Ham

Italian sausage, sliced or crumbled

Bacon

Salami

Chorizo

Anchovies
Veggie Pizza Party Toppings:
Sliced or diced tomatoes

Olives

Sliced bell peppers, fresh or roasted

Red onions, sliced

Broccoli or fresh spinach

Sundried tomatoes

Artichoke hearts

Grilled zucchini 

Grilled eggplant

Pesto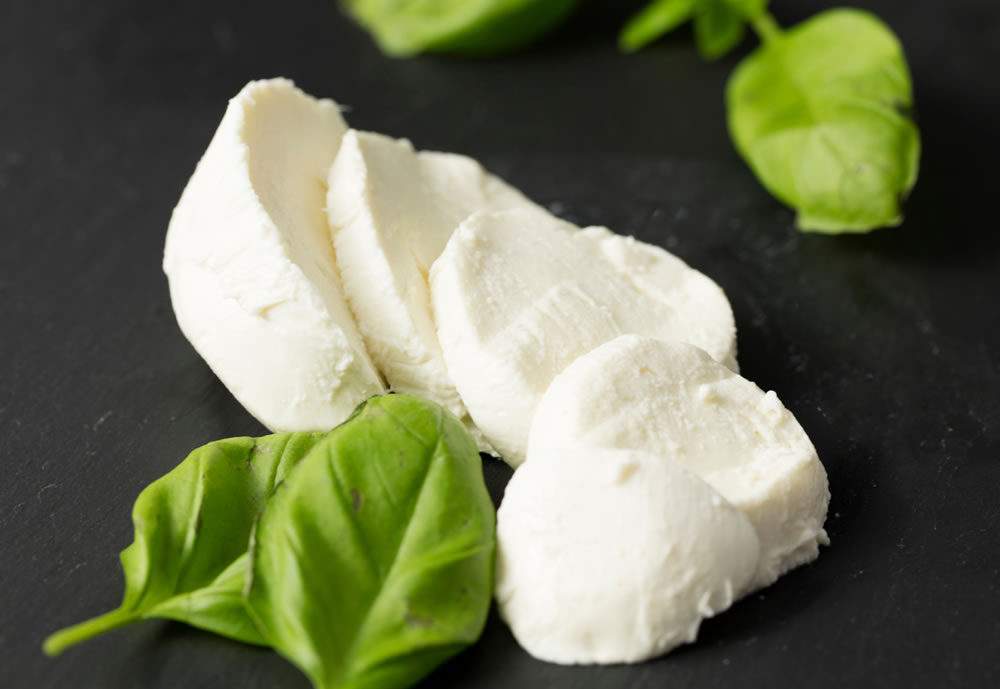 Have Fun With Cheese
Who says you can only have mozzarella on your pizza? Offer your guests a variety of cheeses to build up their pizzas with to add new combinations of flavor. 
These cheeses are great to serve whether you're building your pizzas from scratch or customizing frozen:
Sliced Fresh mozzarella

Grated parmesan or Romano cheese

Ricotta

Gorgonzola

Crumbled Goat's Cheese

Crumbled Feta
Select and Prep Your Toppings 
To make things easier for yourself, ask guests what their favorite pizza toppings are so you're sure to buy only what they like. Some of the most popular toppings we all know include pepperoni, sausage, mushrooms, peppers, onions, olives.
Also consider offering a selection of more gourmet ingredients like prosciutto, arugula, artichokes, gorgonzola, salami, and burrata.
You can even add a bit of potluck style to your pizza party and ask people to bring their favorite toppings to share.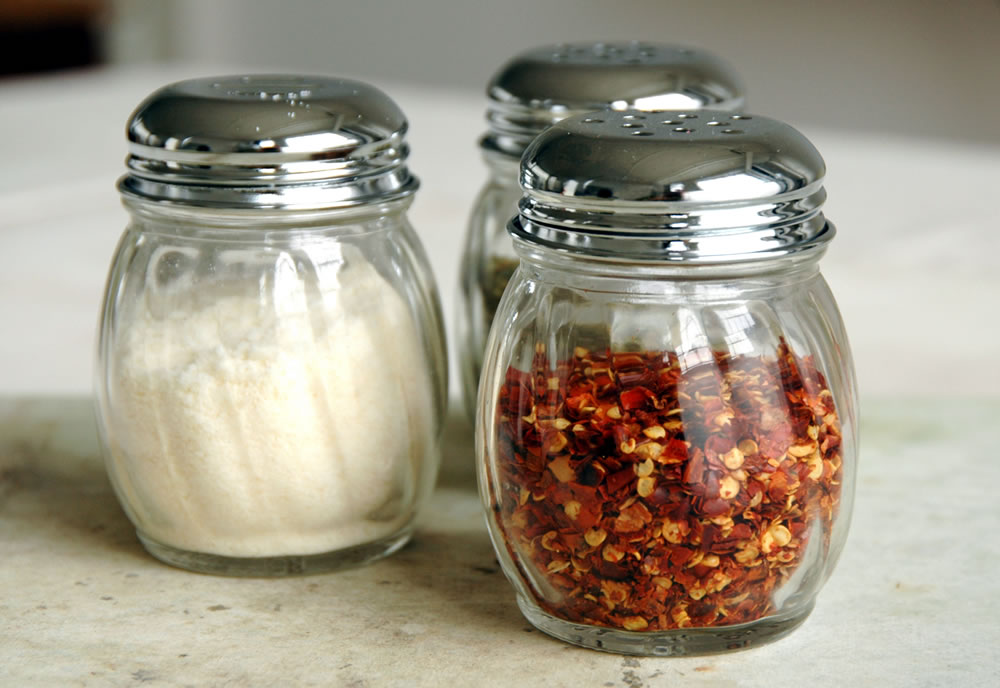 Gather Herbs, Spices, and Seasonings for the Table
For an authentic touch to your party, have some great olive oil, balsamic vinegar, and a variety of seasonings set up on the table just like they would at your favorite pizzeria restaurant. 
Here's what to have ready:
Salt + pepper

Crushed Red Pepper

Dried Oregano

Dried Basil

Garlic powder, garlic salt, or dehydrated garlic flakes

Onion powder 

Parmesan cheese
Have These Fresh Toppings Ready for After the Pizzas Come out of the Oven
Pizza toppings don't only have to be baked! In fact, there are a variety of fresh ingredients that can add even more flavor and texture once the pizzas are out of the oven like:
Fresh Herbs and Greens:

Fresh basil or arugula tossed with a pinch of salt and lemon juice

Cheeses:

Sliced Fresh mozzarella, parmesan cheese, romano cheese, crumbled gorgonzola, goat's cheese, or feta

Meats:

thinly sliced prosciutto or serrano ham

Drizzles:

infused olive oils, honey (try chili-infused), hot or Buffalo Sauce.
Table Tip: We found the same cheese shakers they have on the tables of the pizzerias in the kitchen wares section of our local grocery store for less than $3 each.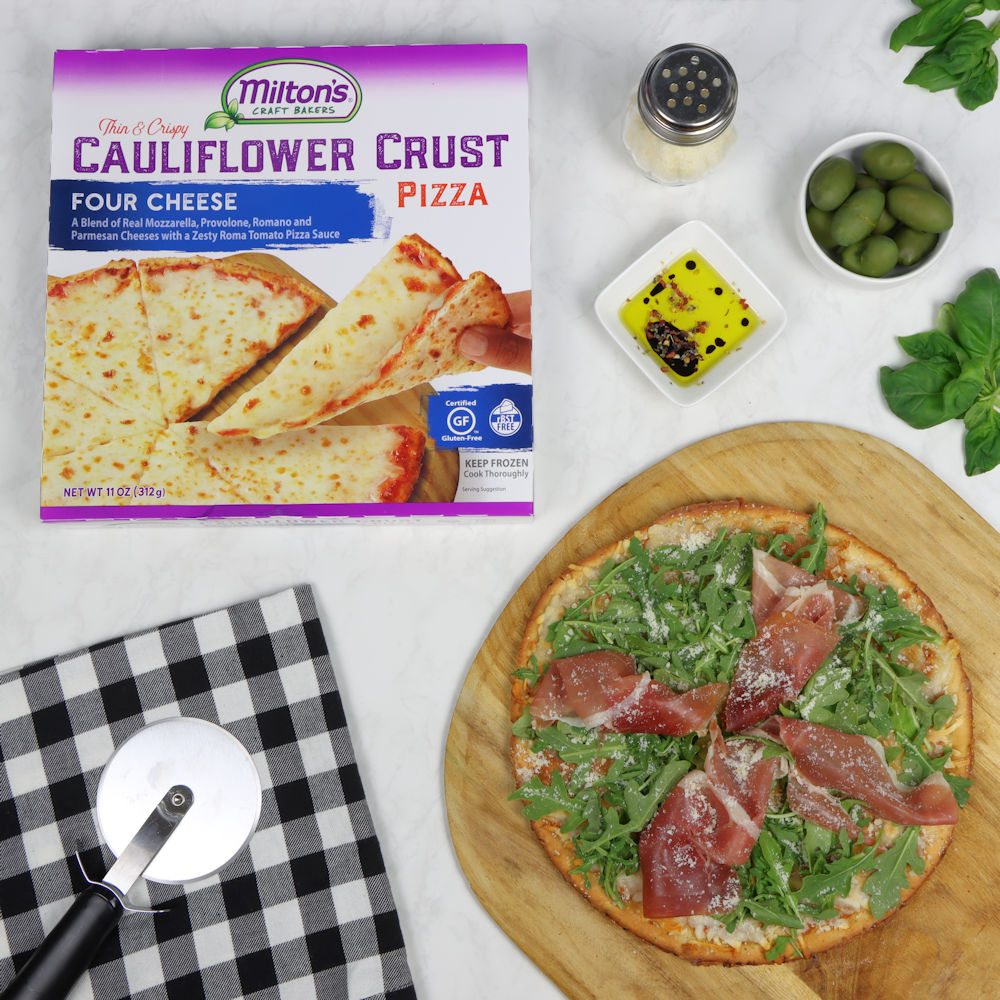 Customize a Frozen Cheese Pizza (like Milton's) With These Flavor Combinations
Arugula + Prosciutto: Add fresh arugula tossed with lemon juice, prosciutto, and parmesan cheese after baking
Roasted Red Pepper: Add roasted red peppers, balsamic glaze, and fresh basil
Caesar Salad Pizza: Top with romaine lettuce, parmesan cheese, and drizzle with Caesar dressing. Chicken is optional.
Buffalo Chicken: Grilled chicken, buffalo wing sauce,  crumbled gorgonzola
Philly Cheesesteak:  Add thin slices of steak, caramelized onions, and cheese wiz or provolone
Tips for Cooking Your Pizzas
To make sure your pizza crusts come out perfect, you want to make sure your oven is preheated and at high temperatures! A hot oven means a better pizza and they take approximately 10-20 minutes to cook depending on size and how well done you like them.
A frozen pizza like Milton's Cauliflower Pizza is super easy to cook and you don't even need to defrost them. Just take your frozen pizza out of the box and remove any excess packaging while your oven is preheating. Pop them into a 425 degree F preheated oven or toaster oven. After removing them from the oven let them cool on a wooden or metal tray for a couple minutes to cool before slicing.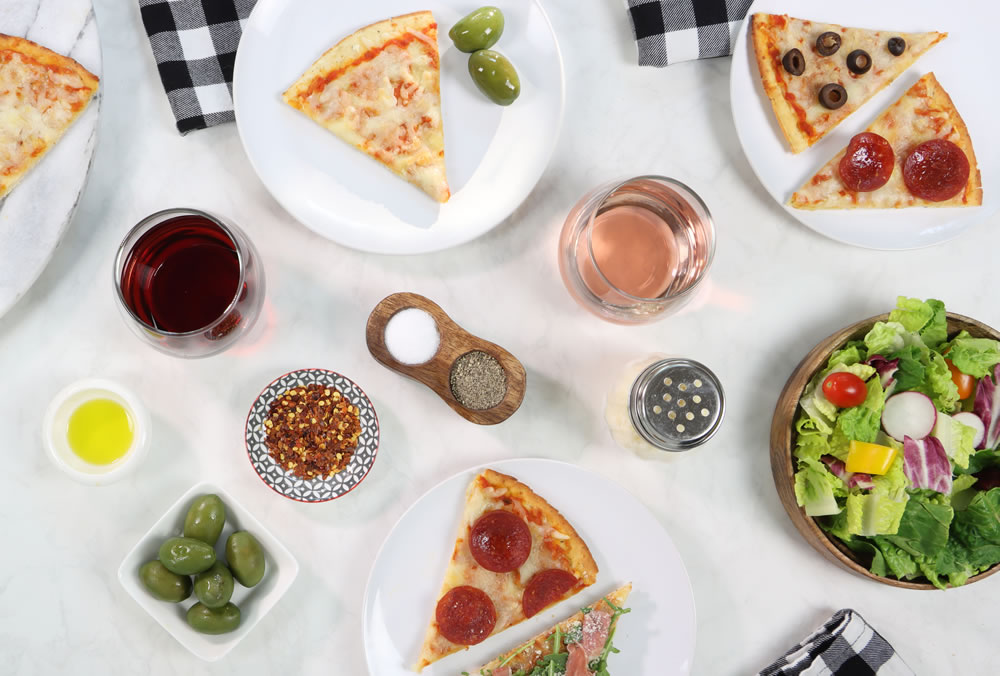 What to Drink
Besides non-alcoholic drinks like sparkling water with lemon and natural sodas, there's nothing better with pizza than a good red wine. 
Here are some pizza + wine recommendations:
Cheese Pizza: Montepulciano
Pepperoni Pizza: Sangiovese, Sangiovese or Barbera, Nero d'Avola, Nebbiolo, Cabernet Franc
Margherita Pizza: Dry Rosé, Sangiovese or Pinot Grigio
White Pizza: Chardonnay or Pinot Noir
Sausage Pizza: Syrah or Pinotage
Meat Lover's Pizza: Cabernet Sauvignon, Tempranillo, Shiraz, Malbec.
Pizza With Greens or Veggies: Chardonnay or Sauvignon Blanc, Prosecco, Fiano, Rosé
For your guests who aren't into wine but would like an adult beverage, offer a cold and refreshing Italian-style beer.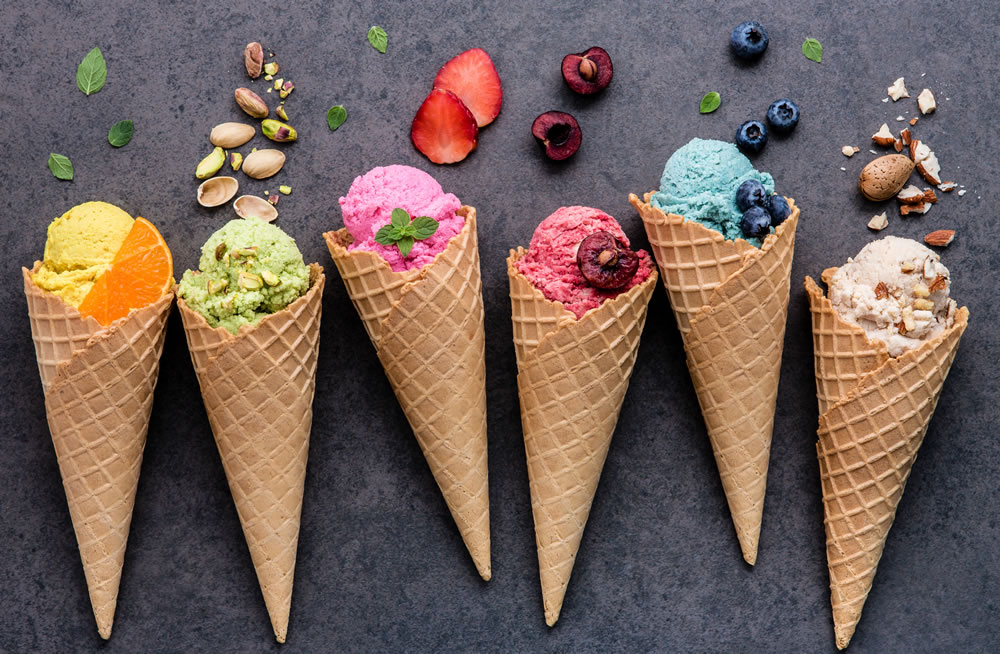 Don't Forget Dessert
To end your pizza party on a sweet note, consider serving desserts like gelato (a gelato bar would be fabulous), tiramisu, Italian cookies, and cannolis for the perfect ending. Paired with an espresso or cappuccino, you and your pizza party guests will be sorry to see the night come to an end.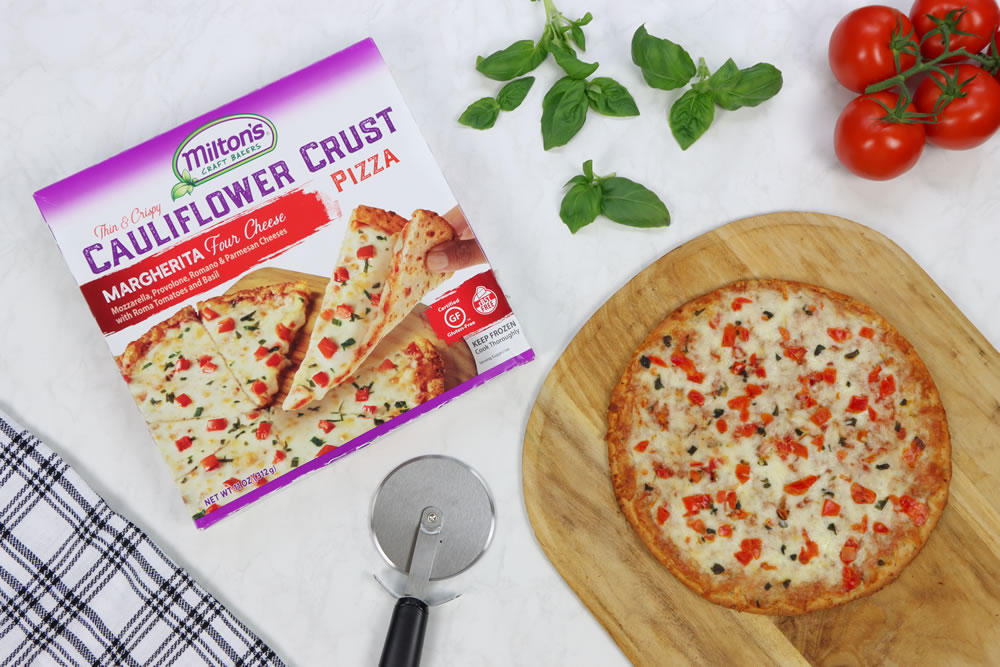 Keep Milton's Craft Bakery Cauliflower Pizza Flavors in Your Freezer for a Pizza Party Any Time
Gluten-free, rBST Free, and Non-GMO Project Verified to try all 4 flavors:
Four Cheese
Margherita Four Cheese 
Roasted Vegetable
Uncured Pepperoni 
Visit MiltonsCraftBakers.com to learn more or to find their Thin & Crispy Cauliflower Crust Pizzas near you. 
Milton's Craft Bakery Cauliflower Pizza is now available at Giant! Find a location near you and get a 2 FOR 1 Coupon now!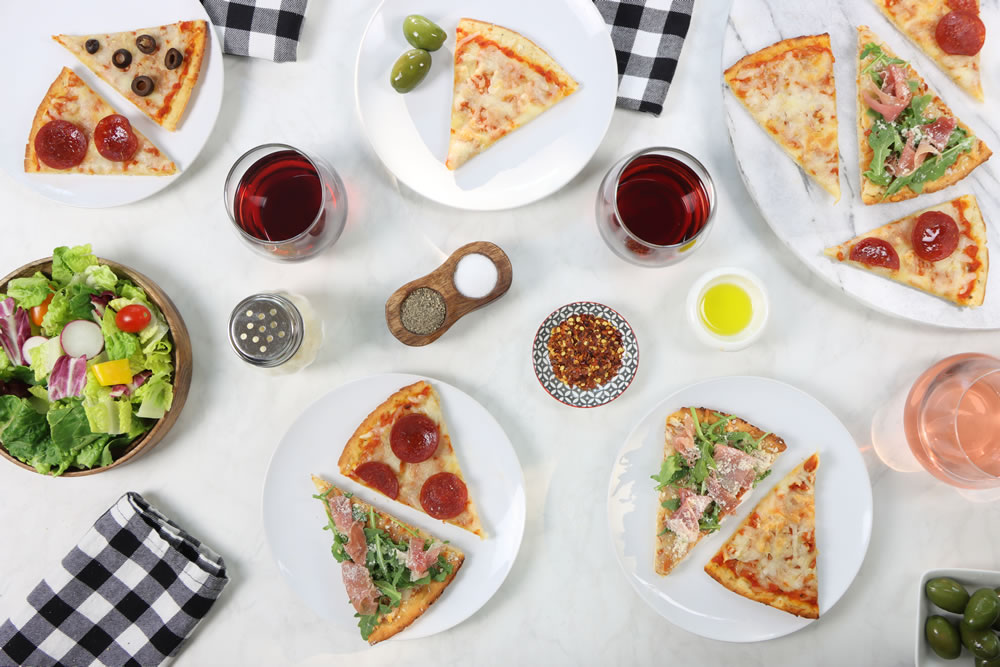 The post Make Your Own Pizza Party With These Easy Tips first appeared on Better Living.
Growth Capital For Online SaaS and App Businesses | Clearco
This is how you fund your business without giving up any Equity Click Here To Learn How!!